Our Mission
TowBoatU.S. Ft Lauderdale has been in business since 1989 and has performed thousands of successful towing, salvage and marine assistance operations over the years. We are committed to providing prompt, professional and timely assistance to all customers with a keen eye toward safety using state-of-the-art equipment and experienced crew. While conducting our daily business, we are an active advocate and leader in the marine community lending our support to local law enforcement and U.S. Coast Guard in search and rescue efforts as a public service to all boaters. We respect ourselves, the waters and the community we serve.
Our Services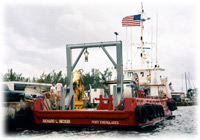 Charter Services
Vessels that are available for charter range in size from 26' to 96'. Our vessels are suitable for charter operations such as cable lay, dive/salvage platform, site surveys, film platform, film subject, chase boats, and many others.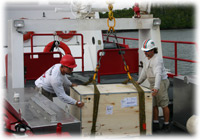 Launch Services
Launch services include transportation of cargo and crew, spare parts delivery, supplies, provisions, lubricants, potable water and other needed items to and from the Port Everglades and Miami Anchorage.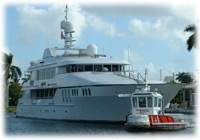 Yacht Towing and Assistance
TowBoatU.S. New River has the experience to safely and professionally tow your yacht to and within all of Ft. Lauderdale's premier service facilities and marinas.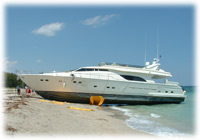 Salvage Services
TowBoatU.S. Ft. Lauderdale has performed thousands of successful salvage operations since our inception in 1989. Our varied equipment enables us to respond efficiently to any situation. Our crew are marine professionals; skilled and experienced.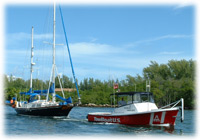 Emergency Towing
Operating from three ports, our vessels are available 24 hours a day, 7 days a week to respond to emergency towing and dock to dock towing situations at any time. Our crew is experienced in long distance towing situations and our boats are capable of handling the task.